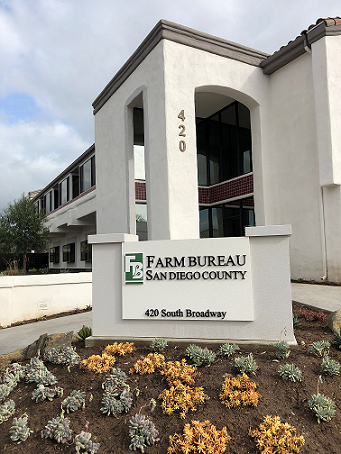 AgHub – A Center for the Business of Agriculture
With an eye to the future, the San Diego Farm Bureau is relocating to the AgHub – a Center for the Business of Agriculture. The Farm Bureau Ag Hub will serve as agriculture's key site for sharing knowledge and resources – all in one convenient location. Centrally located in Escondido, it will be the place for agricultural groups to hold meetings and exchange ideas.
Initial tenants include:
• UC Cooperative Extension Farm Advisors
• Expanded Food & Nutrition Education Program (EFNEP)
• 4-H Program
• Master Gardener Program
• Jim Montoya Insurance
• San Diego Region Irrigated Lands Group
• San Diego Ag in the Classroom 

Bringing together multiple organizations connected to the business of agriculture will foster improved communication and collaboration, and more efficient use of space and time.
San Diego County Farm Bureau Capital Campaign
Goal: $2 million
In order to achieve the final principal, the Board of Directors recognized that a fundraising campaign was critical and the San Diego County Farm Bureau Capital Campaign was launched. While improvements are progressing to ready the building for Farm Bureau and tenants, we invite you to participate in helping us secure our future. Please join in Farm Bureau's next chapter of service. Through your generosity, you will be helping to build a stronger Farm Bureau and a unique agricultural hub.
Donate Today
From Our Members
"My business is defended by a strong Farm Bureau. I know I can focus on my crops and Farm Bureau will work on the decisions being made that affect my everyday operations. I see the Ag Hub as strengthening Farm Bureau, giving our organization the resources to keep agriculture thriving."
"The Farm Bureau Ag Hub is a great idea, allowing for expanded visibility and influence of agriculture in our county. We are thrilled, and have been working on implementing the plan ever since the Farm Bureau Board of Directors made this a priority in 2013."
"I look forward to having a nice place to get together with colleagues and learn the latest information to help my business grow and thrive. The Farm Bureau is always looking out for all of us in the business of agriculture, and the Ag Hub is going to be of great help."