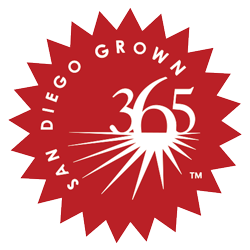 Since 2004, San Diego Grown 365 represents a quality seal of approval referencing local produce and San Diego's ideal year-round growing climate.
Farm Bureau saw early on that members could realize greater sales by identifying themselves as local producers. It has taken time, but now the idea and the brand are starting to stick. Many local wineries are using the brand to promote and identify San Diego wines, as well as multiple food producers like Mountain Meadow Mushroom, Sundial Farm, and Eben Haezer Poultry Ranch. Any San Diego County grower may sign a short and simple agreement to use the label at no cost and start identifying their products as locally grown.
For those concerned about how much space the mark will take up on their labels, there are options. Multiple sizes of the mark are available and they can be paired with PLU numbers and work as Country of Origin labels with minimal changes. Take advantage of this free marketing opportunity that is right in step with current consumer sentiment of desiring to buy local.
Contact Katie Byrne at the Farm Bureau office for more information:
Katie Byrne
760-745-3023